October 2012
Halloween has a long history in Tyria, and in times past was always marked by the spirit of Mad King Thorn cavorting among the people unleashing his own brand of insanity. However, it's been over 250 years since he was last seen, and for most people he is merely a figure of folklore. Despite this, rumors persist among the populace that something wicked this way comes.
Shadow of the Mad King is the first major game release for Guild Wars 2 and will go live on October 22*. This new game update will include a number of new features for all of our players to enjoy, new content to explore and see, and a week-long Halloween event.
October 2012 Release Highlights
Black Lion Trading Post
Never one to miss out on an opportunity, Evon Gnashblade has stocked all new items at the Black Lion Trading Company, including Halloween costumes and new transforms that will allow you to play Costume Brawl with fellow costumed players.
PvP Paid Tournaments
Paid tournaments will be available for competitive, five-person teams. These tournaments require tickets to enter and give better prizes than normal tournaments. Participating teams will earn qualifier points that will allow them to compete in future, larger tournaments. Tournament tickets can be earned from winning normal tournaments or purchased in the Gem Store.
Tyria Evolving
The world continues to evolve with new events, jumping puzzles, bosses, mini-dungeons, and achievements appearing across a variety of maps.
Halloween Event
500 years ago, a tyrannical Krytan king was slain by his own people, those who had suffered greatly during his reign of lunacy. It is said that this king's body was chopped into pieces, and his spirit was banished to the Underworld, but that he can return to the mortal realm for just one day a year: on Halloween.
Of course, that's just an old folktale. Isn't it?
It's been 250 years since the last alleged sighting of Mad King Thorn's spirit, and today, Halloween is safely celebrated by children (and merchants) all across Tyria.
But! Strange energies are rising under the autumn moon. Is there perhaps some truth to the old stories? Do you dare to find out what's really going on?
Halloween: Shadow of the Mad King
Runs from October 23 until November 1 in four frightful acts:
Act 1: Begins October 22—Tricks and Treats
Halloween is here! The people of Lion's Arch and beyond have begun celebrating the week-long holiday with candy, costumes, decorations, and of course, the traditional jokesters dressed up in Mad King garb. Despite the festivities and fun, there are a vocal few who claim that Mad King Thorn will return on the 500th anniversary of his death.
Brand New Events
The scholars of the Durmand Priory are concerned by odd energy fluctuations and eerie Halloween phenomena. Help them delve into the history and mystery of the Mad King in a series of all-new events.
---
Haunted Doors
What's the secret of the strange doors that have appeared across Tyria? If you've got the nerve, knock on one of these Halloween portals and see what answers.
Act 2: October 26 – The Shadow Falls
Halloween in Tyria has taken a dark turn. The old stories have been proven true: Mad King Thorn is very real, and his insanity threatens to corrupt all of Tyria. Brand-new Halloween activities, maps, puzzles, events, and surprises await the brave adventurer.
Realm of the Mad King – The mysterious haunted doors can become portals to or from the Mad King's realm. Your actions determine whether the mad bestiary is coming or going. Enter the Mad realm yourself, and you'll find a macabre new map full of creepy creatures, Halloween events, and things that go bump in the night.
Lunatic Inquisition – All is not well in the Mad King's realm. His subjects are once again rising up against him. Do you join them or defend the king himself? Lunacy is contagious, so be wary. You may find yourself on the wrong side of the battle!
Reaper's Rumble – In the Mad King's pumpkin field arena, harvest your victory. Reap what you sow in this dangerous game of tactics and trickery. After all, it's just not Halloween until somebody gets hit in the head with a pumpkin.
Mad King's Clock Tower – Only the Mad King himself could imagine up such a devious jumping puzzle. You'll need nerves of steel and steady feet to claim the treasure at the top of the Mad King's tower.
Act 3: October 28—Return of the Mad King
It's not yet Halloween day, and yet, something is amiss. The Mad King is threatening to break through into the land of the living! If he gets out before Halloween day, he'll undoubtedly begin a new reign of terror! Will you stop his deranged plans? Is it even possible?
Ascent to Madness
The beautiful lion statue in Lion's Arch has shattered, and in its place, there is now a portal to the Mad King's realm. Steel yourself if you decide to enter this nightmarish world of madness and mirth where heroes battle to keep the Mad King locked away and harmless.
Act 4: October 31—The Mad King's Revelry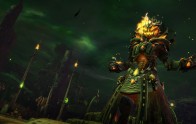 We contained the Lunatic threat, and now, it's time to party in our sassy new party hats! Once again, Mad King Thorn walks among mortals only on Halloween day, when he's forced to behave…mostly. Gather in Lion's Arch with your fellow players to celebrate Halloween. We're going to have a fun-filled finale to the Mad King's favorite holiday!
Update Notes
Read the full update notes for this release.